Wil je mijn boek 'Op je lijf geschreven' bestellen? Klik dan hier.
Wil je aan de slag met je self-care? Daar heb ik een toffe training voor! Zet mijn naam tussen haakjes bij je aanvraag, dan krijg je van 1 t/m 30 april 2020 een tweede training cadeau!
Zin een body confidence boost? Luister dan mijn podcast! 
Hey you,
Mijn naam is Mayra Louise en dit is mijn persoonlijke website. Ik ben freelance journalist, auteur van het boek 'Op je lijf geschreven' en voormalig (plus size) model. Na een jarenlange struggle met mijn lijf en zelfbeeld leerde ik: happy is not a dress size. Dat is ook de reden dat ik een paar jaar terug begon met The Publisized. Inmiddels ben ik weer een heel stuk verder in mijn self-love journey en heb ik besloten nu echt mijn podium te pakken. Dus nu ontmoet je me – nou ja, een beetje dan – hier op mayralouise.com.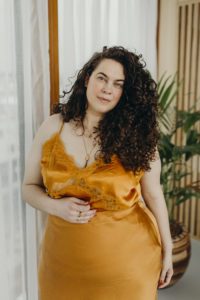 Ik deel hier persoonlijke verhalen en houd je op de hoogte over wat er gaande is in mijn leven. Op de site zijn ook een heleboel interviews te vinden met andere vrouwen die hun self-love en self-care tips delen. Check zeker even de 'Stories' als je op zoek bent naar inspiratie of fijn leesvoer!
Heb je vragen, opmerkingen of een andere reden om met me in contact te komen, stuur dan even een mailtje naar info@mayralouise.com.
Blijf stralen,
Mayra Louise
Foto: Aline Bouma